The Spring Concert was a night to remember, filled with all things Bright and Beautiful!  Everyone sang so joyously and made all of TLS proud. Trinity school students from VPK through grade eight filled the brightly decorated gym with vibrant choral and instrumental music at our 2018 Spring Concert.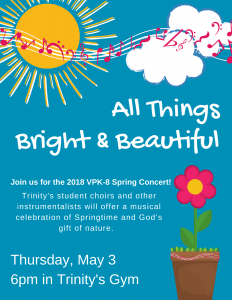 The youngest children arrived on stage wearing yellow hard hats to emphasize that each of us is still "under construction", so let's be patient with one another while God continues to work on our hearts (the unfinished part).
The VPK children were followed by the Grace Notes choir who kicked off their performance with puppets and the lively piece, "Creature Praise", then shared anthems that they have sung this year in worship here at Trinity. The K-2 students sang about Mayday and dancing around the maypole.
All the different classes did a fantastic job in performing songs of springtime, love, and nature. The K-8 students closed their portion of the performance with the youth praise band and students singing together We Are The Young, which was a message to teachers and parents to be inspiring and to teach well.
For the finale, VPK through 8th all came together to sing, "Gift to You", which wrapped up the evening thanking God for all that He does for us and dedicating our lives to Him with love.
Thank you to all the wonderful parents who bring their children to Trinity each day to learn and grow in a Christ-centered school and who filled the gym to capacity at this year's Spring Concert. Thank you also to everyone who contributed to making this joyful evening possible. Overall, it was a very successful night.  I am proud of what the students accomplished.