The 2018 Trinity Lutheran School K-8 Report Card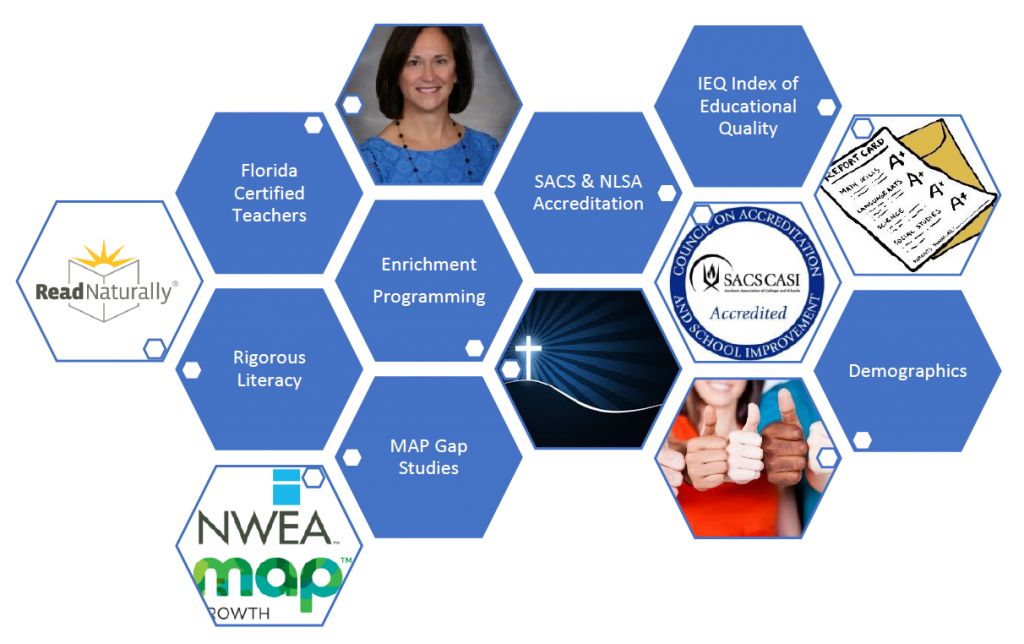 OCPS School Report Cards now appear on public school websites, with the intent to communicate performance on coursework, special programs, academics, and overall school climate.  The graphic above illustrates Trinity's own Report Card, fueled by our Accreditation through the Southern Association of Colleges and Schools and National Lutheran School Accreditation. The following paragraphs serve as our own Report Card, both narrating and charting the success of our mission to promote academic excellence and nurture Christian character for every child attending Trinity Lutheran School.
Accreditation
In 2016, Trinity Lutheran School was granted Accreditation from the Southern Association of Colleges and Schools and National Lutheran School Accreditation.  The Summary Report from the Accreditation Team examined the quality of the K-8 programs, and the impact of Trinity's instruction, governance, and learning resources, summarized below:
SACS Accreditation Index of Educational Quality
Index of Educational Quality
Trinity results
Norms for SACS schools
Overall
287.82
278.34
Teaching impact
280.95
268.94
Leadership impact
318.18
292.64
Resource impact
260.71
283.23
Florida Certified Teachers
Just how good are Trinity's Florida Department of Education certified teachers?   The Accreditation Team also observed instruction throughout the K-8 classrooms, and ranked the effectiveness of classroom teaching accordingly:
Comparisons across Southern Association of Colleges and Schools
Observations from the Accreditation Team
Trinity results
SACS schools
 
Overall
2.95
2.75
1
Equitable Learning Environment
2.62
2.69
2
High Expectations Environment
3.13
2.81
3
Supportive Learning Environment
3.40
3.07
4
Active Learning Environment
3.17
2.94
5
Progress Monitoring and Feedback Environment
3.07
2.79
6
Well-Managed Learning Environment
3.50
3.14
7
Digital Learning Environment
1.78
1.83
eleot™ Effective Learning Environment Observation Tool
4-point scale
Demographics
Beyond the ethnicity reported in the table below, student enrollment at Trinity also spans the socio-economic spectrum of Orange County.  Trinity is truly a microcosm of American society.
Student Demographics
 
Ethnic Origin
Trinity %
OCPS %
US%
African American
30%
24%
13%
Asian
0%
4%
6%
Hispanic
24%
41%
18%
White
41%
64%
61%
Mixed Race
5%
2%
3%
Rigorous Literacy and MAP Gap Studies
During the past three academic years, intentionally three years as Reading and Language Arts is penultimate to academic success, Trinity teachers researched the best practices in Literacy.
Year One. Trinity adopted an extensive Writing Curriculum in 2016, and the table below visibly demonstrates the significant shifts in writing skills across the grade levels. Writing is taught in a Workshop format.
Writing Assessment Results for Grades 2-8
Percent of students:      1.0 signifies two Grade Levels below proficient writing
2.0 signifies one Grade Level below proficient writing
3.0 signifies writing skills at Grade Level
4.0 signifies writing skills above Grade Level
| | | | | | | | | |
| --- | --- | --- | --- | --- | --- | --- | --- | --- |
| Scaled Scores | 1 | 1.5 | 2 | 2.5 | 3 | 3.5 | 4 | Mean |
| 2018 February | 18% | 18% | 33% | 14% | 12% | 5% | 0% | 1.99 |
| 2018 May | 5% | 11% | 32% | 33% | 9% | 5% | 4% | 2.28 |
Year Two. Support Resources are adopted in 2017 for Phonics and Reading Fluency.  Really Great Reading ™ is introduced to students in Kindergarten through Grade 2 for robust instruction in Phonics.  Read Naturally ™ successfully trains Trinity's lowest performing students to practice fluency and bolster shortcomings in Reading Comprehension.
Students in the Middle School worked daily in MAP Test skills, to close the Gap for students below the norm for Reading and Mathematics, while those above the Grade Level norm engaged activities to extend the Gap as enrichment.
Year Three. In 2018 Trinity teachers begin to employ the same Workshop methodology for formal instruction in Reading.
Enrichment Programming
Bolstering Trinity's existing Extended Care program are after-school experiences for students in Drama, private Music lessons, Computer Coding, Spelling Bee, and Athletics.  Study Island ™ in MAP Gap engages Middle School students with enrichment activities to further expand academic horizons.  All students complete service projects in and beyond Trinity, serving as ambassadors to the community, putting their Christian faith into practice.
What lies ahead?
Accreditation Reports cite schools with two Powerful Practices (a school may have many Powerful Practices, however only two are noted in Accreditation Reports).  Trinity will continue to bolster our two Powerful Practices:
The School Board empowers the Executive Director to carry on the responsibilities for the mission of Trinity Lutheran School
"Every Child is an Honored Student" aptly defines the commitment to meet the needs, interests, and characteristics of all students at Trinity Lutheran School.
In 2018-19, Trinity will launch a Team to investigate best practices in instructional technology and upgrade tech resources available to teachers and students.  Teachers will continue to pursue professional credentials with the Florida Department of Education, and begin to study best practices in Mathematics instruction.