"When grandparents take us for walks, they slow down past things like pretty leaves and caterpillars…"
"They show us and talk about the colors of flowers."
"Grandparents don't have to anything except be there when we come to see them."
"They answer questions like, 'How come dogs chase cats?' and 'Why isn't God married?' Parents don't."
"They know we should have a snack before bed time, and they say prayers with us and kiss us even when we've acted bad."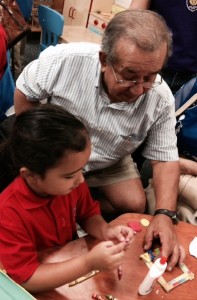 With these cute quips, Dr. Brockberg welcomed more than 180 grandparents to Trinity Lutheran School for our annual Grandparents Day. Following Morning Assembly, this special event was graced with intergenerational activities in classrooms. Sweet treats were served in our new courtyard. And our volunteers opened the Fall Book Fair for previews and purchases. There was something for everyone throughout the school.

From exploring family trees in Grades 4 and 5 with Ms. Crawford, to solving number puzzles for Middle School math, sharing art projects in Kindergarten with Mrs. McKinnon, creating time lines in Grade 6 with Mr. Rottmann, writing biographies in Grades 2 and 3 with Mrs. Beltz, and enjoying story time in Grade 1 with Mrs. Green, grandkids and grandparents were indeed "Growing Together," our recurring them throughout this school year. Indeed, the only thing glowing more brightly than the smiles throughout the morning were the glowing light bulbs created with Mrs. Brockberg's students in Grades 7 and 8 using batteries, wires, and pencil lead.
The grand celebration concluded with worship. Under the theme, "Growing Deeper," this chapel was a series of lessons, litanies, and carols. Mr. Tayon directed each grade level choir with a song depicting short scripture readings by Pastor Martin and Dr. Brockberg. Grace, faithfulness, and love are blessings from God above that deepen our relationships on earth below. This day did show us all that:
Grandchildren are the crown of grandparents,
and parents are the glory of their children. Proverbs 17.6