At Trinity Lutheran School, we believe that a well-rounded student experiences various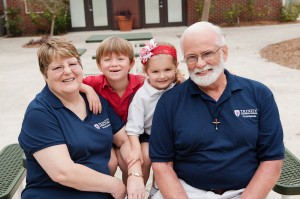 activities during school hours.  These activities are to provide ways for students to expand their education, socialize and contribute to the community. Click the tabs above to learn more!
For the most recent news on Trinity activities, read our most recent blog posts below.
Book Fair (Fall & Spring)
Grandparents Day
Orlando Philharmonic Field Trip
Halloween Parade
Student Council (Middle School)
All School Thanksgiving Lunch
VPK and Kindergarten Christmas Program
The Gift at Lake Eola (1st-8th grades)
Step Up to Kindergarten (VPK)
March in to Middle School Day
Family Fun Night
National Lutheran Schools Week
Read In
Spring Play
Learning Fair
Field Day
Kennedy Space Center
Georgia Outdoor Education Trip
7th/8th Grade Class Trips ( Marine Lab-Florida Keys; Washington D.C.)
Easter Egg Hunt (Infants-VPK)
Seasonal Class Parties
Campus Work Days
Back to School Open House
Oktoberfest
Kindergarten Round Up
Touch A Truck
Middle School Round Up
Music Concerts
Downtown BBQ Cook-Off
Music Festival
Silent Auction
Confirmation Retreat
Pastor Hoard Memorial Golf Tournament
TLS Athletic Events (Volleyball, Soccer, Basketball, Golf, Track / Flag Football)
Sports Banquet
Volunteer Appreciation Dinner
Staff Appreciation Week
Extra Curricular Activities
All extra-curricular activities are taught after normal school hours and on our campus. Contact individuals below with questions or stop by the school office for a flyer and registration form.
Sports
Soccer Shots
Contact: Marisa Cardamone, marisa@soccershots.org
*PreK2-2nd grade
*Soccer Shots instructors are energetic and enthusiastic, are great teachers, and love working with children. We not only teach soccer skills, but also work on improving balance, coordination, and agility with the kids. Soccer Shots also uses the sessions to teach children important concepts such as teamwork, sharing and respect.
For the school's athletics page, click here.
Dance
Defining Movement
Contact: Joleen Morales
*PreK3-8th grade
*Defining Movement takes dance class to the next level with an energetic, creative, and encouraging approach to dance which encourages any and every child to express themselves through movement of all kinds.   Areas of instruction include Creative Movement, Pre Ballet, Hip Hop and Creative Freestyle Movement.
Music Lessons
3rdWheel.Org, LLC
Contact: Mark DeMaio
*PreK3-8th Grade
*Drum Class by 3rd wheel includes basic to advanced techniques covering hand over hand rhythm techniques, music games, activities and songs.
Music Lessons by T.J. Howard
Contact:  T.J. Howard
tjhoward32@gmail.com or 574-514-8531
T.J. Howard, who also works as a VPK teaching assistant, is a musician offering music lessons for students of all ages.  He gives lessons in piano, guitar, and drums.  He received his Bachelor's degree in music composition and piano from Indiana University and has been playing drums professionally since high school.  Before working at Trinity he was playing in a band on a cruise ship and is currently playing drums in the local band, Raising Cadence.
Technology
Computer Tutor
Contact: Robin Coyne, computertutormsrobin@gmail.com
*PreK2 – Kindergarten
*Discovering technology through computer games