Beyond Academics
Before and After School Programs
TLS Extended Care
Trinity Lutheran School's Extended Care program provides a safe and nurturing environment for children before and after the regular school day.  The majority of our staff is comprised of professional educators and college students who are preparing for the field of education.  Trinity's Extended Care and Camp Director, Mrs. April Struhs, is a diligent, hardworking, college student working toward a degree in Education. She absolutely loves working with children. Mrs. Struhs thinks that the minds of "tiny humans" are amazing because they get excited about everything. The enthusiasm of the children she works with helps her stay creative, affectionate, and appreciative of all the little things in this world. April also works as swim instructor to help keep children (and adults) safe in the water.  If you have any questions about the Extended Care program, please email April.Struhs@TrinityDowntown.com.
Morning Session
The before school morning session runs from 7:00am-8:15am in the Fellowship Hall.  Children have the opportunity to finish homework, read, play games or work on crafts.
Afternoon Session
The afternoon session runs from 3:15pm – 6:00pm Monday, Tuesday, Thursday, and Friday, and from 2:30pm – 6:00pm on Wednesdays.  The children are divided into age level groups in the afternoon and begin with either a snack time or free time on the playground.  After snack and free time, the children go to study hall where they receive help and encouragement in completing their evening homework assignments.  Children who do not have homework are expected to read towards their Classroom and Golden Ticket Reading goals after which they may play games, do crafts, or read on their own.
Trinity Athletics
Welcome to the Trinity Lutheran School Athletics!  Trinity offers a variety of sports programs:
Fall:  Girls' Volleyball, Cross Country, Soccer
Winter: Cheer, Girls' Basketball (JV/V), Boys' Basketball (JV/V)
Spring: Track & Field, Golf
*All sports are subject to school and league participation.
*All sports are for 4th-8th grade students, except for Track & Field which is limited to 6th-8th grade students.
Trinity Lutheran School is dedicated to providing the best in athletics to each and every child at the school. In all of our athletic programs, Trinity is focused on providing a Christ-like environment that nurtures not only the physical and mental health of each child, but also their spiritual health as well.
If you have any comments, questions, or concerns regarding the athletic program, please contact the school office at 407-488-1919 x104. Thanks so much for visiting our page and we look forward to seeing you at a game in the near future!
Trinity Lutheran School has a long history of athletic excellence.  We are excited to offer the following sports teams for the 2018-2019 academic year.  While most teams and club registration is included with K-8 tuition, there may be costs associated with playing any sport listed.
4th grade  JV Soccer (F), JV Volleyball (F), JV Basketball (W), Cheerleading (W)
5th grade  JV Soccer (F), JV Volleyball (F), JV Basketball (W), Cheerleading (W), Track (S)
6th grade  JV Soccer (F), JV Volleyball (F), JV Basketball (W), Cheerleading (W), Track (S), Golf (S)
7th grade  Varsity Soccer (F), Varsity Volleyball (F), V Basketball (W), Cheerleading (W), Track (S), Golf (S)
8th Grade  Varsity Soccer (F), Varsity Volleyball (F), V Basketball (W), Cheerleading (W), Track (S), Golf (S)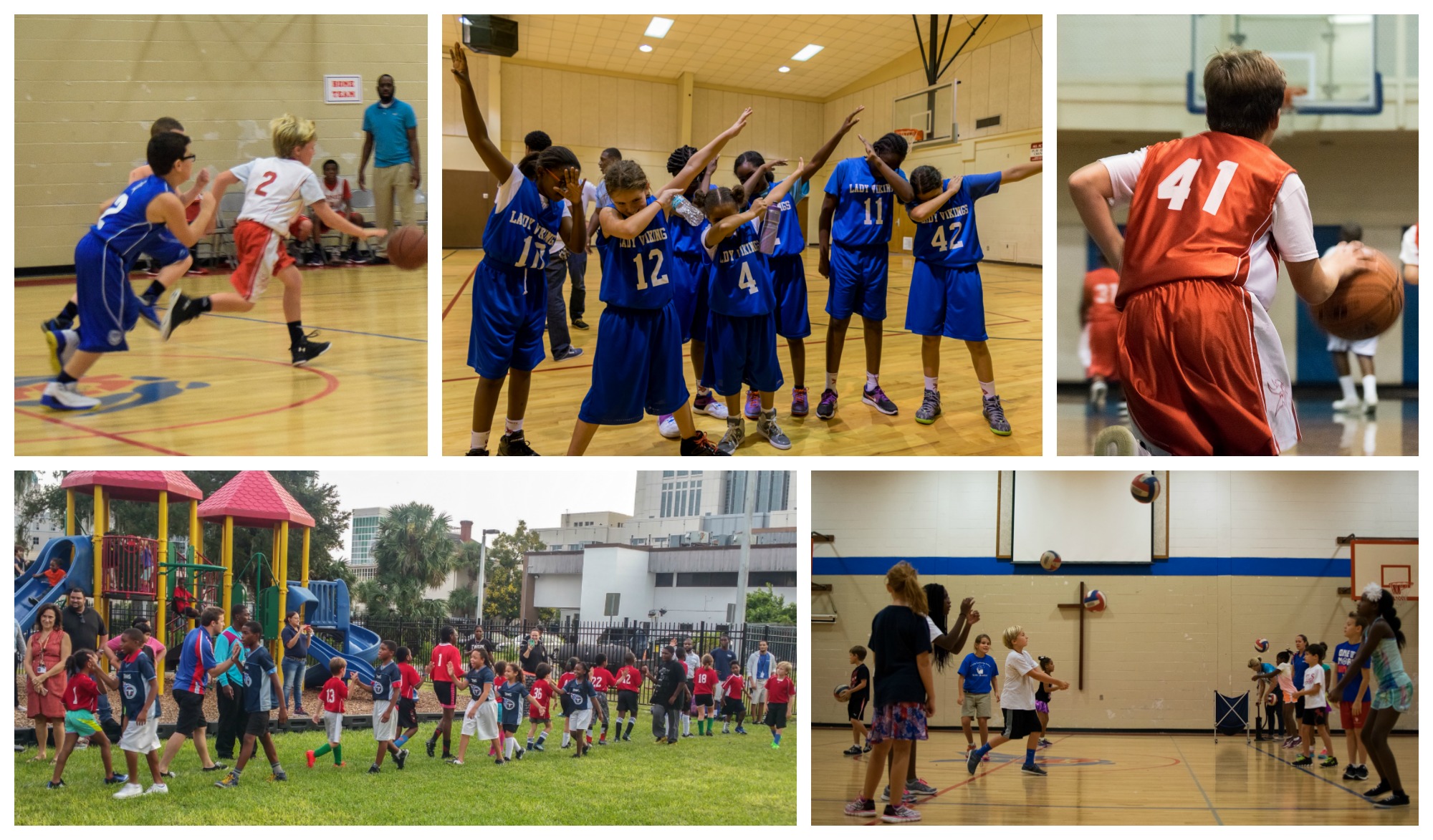 Clubs, Activities & Extra Curriculars
At Trinity Lutheran School, well-rounded students can experience a variety of activities beyond the regular school day.  The programs offered serve to expand the interests and experiences of our students. All extra-curricular activities are taught or practiced after normal school hours and on our campus. Contact individuals below with questions or stop in the school office for a flyer / registration form.
Art
Advanced Art Studio
Contact: April Struhs at April.Struhs@trinitydowntown.com
Classes: Grades 3-8
Students will delve into the alchemy of acrylics on canvas. Students will bring their creations home.
Class taught by Trinity staff
Supply cost: There is a $20 cost for the canvas and the acrylics.
Computer
Computer Tutor 
Contact: Robin Coyne, computertutormsrobin@gmail.com
PreK2 – Kindergarten
Classes: 2:30-4:00pm Tuesdays; 2:30-4:00 Wednesdays, 2:30-4:00pm Thursdays.
Discovering technology through computer games.
Computer Tutor is an independent vendor and will have their own registration, fees and schedule.
Dance
Defining Movement
Contact: Joleen Morales at definingmovementinc@gmail.com.
PreK3 – 8th Grade
Defining Movement takes dance class  to the next level with an energetic, creative, and encouraging approach to dance which encourages any and every child to express themselves through movement of all kinds.
Areas of instruction include Creative Movement, Pre Ballet, Hip Hop and Creative Freestyle Movement.
Classes at Trinity: 3-4pm Tuesdays, 3-5pm Thursdays
Defining Movement is an independent vendor and will have their own registration, fees and schedule.
Fellowship of Christian Athletes
Trinity's "FCA Fridays" Club will inspire student character development based upon Christian values of Integrity, Serving, Teamwork and Excellence through activities, encounters, and fellowship.  FCA FRIDAYS Registration Form
For students K through eighth grade

Integrity We will demonstrate Christ-like wholeness in our relationships in FCA.
Serving We will model Jesus' example of serving.
Teamwork We will express our unity in Christ in all our relationships.
Excellence We will honor and glorify God in all we do.
Club registration is open to K-8 students from Trinity and other local schools.  Those who are not already enrolled in Trinity's Extended Care program will need to complete a registration form/fee. Please contact April Struhs, Extended Care Director, for more details.
Music
Grace Notes Children's Choir
Contact: Julia Malenke at jmalenke@trinitydowntown.com
Kindergarten – Grade 5
Taught by Trinity staff member *free
Students learn more about music and vocal expression through rhythmic activities, musical games and learn sacred and contemporary praise songs. Children are invited to sing once a month in a Trinity's worship service. The choir runs from September to May, meeting on Wednesday afternoons at 4:30-5:15pm.
Music Lessons: Piano / Drum Set / Guitar
Contact:  T.J. Howard at tjhoward32@gmail.com or 574-514-8531
PreK3 – 8th Grade
Private classes by individual appointment
These classes are provided by an independent vendor and will have his own registration, fees and schedule.
Providing music lessons in piano, guitar, and drums.  Mr. Howard holds a Bachelor's degree in music composition and piano from Indiana University and has been playing drums professionally since high school.
Soccer
Soccer Shots
Contact: Anton Faith, anton@soccershots.org
PreK2 – 2nd grade
Teaching children soccer skills, balance, coordination and agility. Also, use sessions to work on teamwork, sharing and respect!
Soccer Field: 3:00-5:00pm on Mondays; 3:10-4:35pm on Wednesdays
Sign up early – classes fill up quickly!
Soccer Shots is an independent vendor and will have their own registration, fees and schedule.
Yoga
Bee Yoga
Classes: PreK3 & VPK and K-8
Experience Yoga in a simple and unique way through games, movement, music and breathing; helps children manage their emotions, build self-confidence, create self-awareness and strengthen their bodies.
Miss Z has been practicing Yoga since 2009 and is a certified Kids Yoga Teacher with a passion not only for building physical strength but also for building strong mental focus.
Classes meet at Trinity weekly on regularly scheduled school days: CDC class on Thursdays 3-3:50pm and K-8 class on Thursdays 4-4:50pm.
Sign up forms are in the school offices or contact Miss Z directly at 407-496-9662 or ZaidyB@hotmail.com
Bee Yoga is an independent vendor and will have their own registration, fees and schedule.
Tennis for Tots
Contact Matt Cunningham with Tot Start Tennis at matt@totstarttennis.com or 813-245-1363
Class is for Ages: 2-5 years old
Five by Five goals:
Tennis skills
Athletic skills
Balance
Mental Focus
Hand/Eye skills
The children learn to hit the forehand, backhand, serve and volley using correct grips and swings. They use unique games and activities that promote proper footwork and athletic movement.
Date/Time/Location: classes will be held in the courtyard on Thursdays @ 3pm
Parents must register online at totstarttennis.com
Tot Start is an independent vendor and will have their own registration, fees and schedule.
Annual Events
Weekly Chapel Worship
Book Fairs (Fall, Spring, and BOGO)
Grandparents Day
Orlando Philharmonic Field Trip
Halloween Parade
Student Council (Middle School)
All School Thanksgiving Lunch
Holiday Tree Lighting Concert at Lake Eola (VPK-8th grades)
Family Science Night with the Orlando Science Center
National Lutheran Schools Week
TLS Read In
Spring Play
Learning Fair
Annual Spelling Bee
Field Day
Viking Challenge Fundraiser
Kennedy Space Center Field Trip
Georgia Outdoor Education Trip
7th/8th Grade Class Trips ( Marine Lab-Florida Keys; Washington D.C.)
Easter Egg Hunt (Infants-PreK2)
Easter Experience Rotations (PreK3 through 8th grade)
Seasonal Class Parties
Campus Work Days
Quarterly Servant Saturdays
Back to School Open House
Oktoberfest
Kindergarten Round Up
Touch A Truck Community Event
Middle School Round Table / Registration
Music Concerts
Talent Show
Fall Festival and Children's Art Auction
MS Youth Gatherings
Year End Sports Banquet
Staff Appreciation Week