A year-long Fruit of the Spirit project began in Ms. Kathryn and Ms. Liz's VPK class, with a special family art activity. Students created trees and apples in class and brought them home to work with their family to label and decorate their own family trees. Each student then brought the finished product back to the classroom and presented their family apple tree to the class during circle time.  The decorations, pictures, and labels were as creative as the family trees were diverse. Students noticed that each tree was different, but that all families were filled with love. Students were proud to share about their own unique families, and some children remembered those that are in heaven. This project will lead into the study of the Fruits of the Spirit and the introduction of the class tree. "When someone shows or uses a fruit of the spirit, they can report it and put their fruit on the tree," explains teacher Kathryn Sutton. "This project will direct focus in our classroom on positive actions, rather than rule breaking. How wonderful for children to learn that our actions should be led by the bible, not just the teacher!"
As a member of the Nemours Healthy Habits leadership team, Ms. Kathryn is also passionate about starting healthy eating habits in early childhood, so these family "apple" trees are a great jumping off point for encouraging students to explore the taste, texture, and appearance of fruits and vegetables. And if students are unsure about trying something new? Ms. Kathryn and Ms. Liz always have a little "magic dust" to sprinkle on food to make it more appealing to children (spoiler alert—it's cinnamon).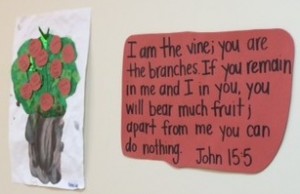 With a focus on family and on God's love, and a little magic dust sprinkled into the mix, the Garden of Exploration class is off to a great start this school year!
"I am the vine; you are the branches. If you remain in me and I in you, you will bear much fruit; apart from me you can do nothing." John 15:5