If you happen to walk by Ms. Colby and Ms. Stacey's "Garden of Adventure" VPK classroom in the New Century Center, you'll notice the "Hello-Goodbye" window where parents can blow one last kiss to their children before leaving.  If you take a moment longer to peer in, you will see Jesus Christ working in the lives of our teachers and students each and every day.
"Every year is a new adventure for us," explains Ms. Colby. "We don't know exactly where we're going [with every lesson] because the kids direct our projects and God leads us."
So far this month, Jesus has inspired two big projects that will guide learning throughout the year.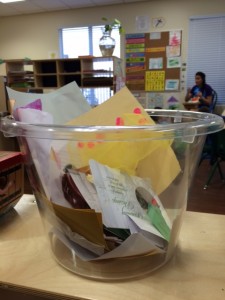 The first project idea began when Ms. Stacey received a bucket filled with cards and kind words for her birthday. The idea was based on the book How Full is Your Bucket? which students read in class. Ms. Stacey's bucket has now become the Garden of Adventure Class Bucket. When a student or teacher (or anyone!) notices a kind act, it is written down and placed in the bucket to remind us all to be "bucket fillers." In this way, individual acts of respect and kindness can fill the entire class with love and remind us of how Jesus wants us to live.
After only one week, the bucket is already filling up! It's filled with blessings, drawings, and examples of students being kind and helpful to another. "This helps students focus on the positive things happening in our classroom," says Ms. Colby. "We also plan to share some of these acts of kindness with Pastor Martin at chapel."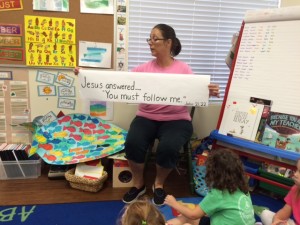 During Circle Time this week, the second big project of the year was explained as Ms. Stacey shared the bible verse John 21:22 with her students. "Jesus answered…you must follow me."
How does one teach 4-year-olds to follow this command? Through literature, art, music, discussion, and community.
The verse was made more concrete for the students during art when they created a giant fish that is made up of smaller fish the children helped paint. At the center of the big fish is a little black fish, representing the eye.  This art project is based on the famous Leo Lionni children's book Swimmy.
"This fish is our class family," Ms. Stacey explains as she presents the project to the students during Circle Time. "We are swimming together to follow Jesus."  So how does the "eye" fit in? "Jesus is our leader, and we are safe in the eye of Jesus." The fish represents our unity in Christ, and will help teach the children the Fruit of the Spirit throughout the year.  Children are already brainstorming ways to represent the Fruit of the Spirit through ocean life.
We can't wait to discover what God has in store for the Garden of Adventure students this school year!
These VPK students are actively involved in growing deeper in their faith, as they learn and grow in the care of Trinity Lutheran School's CDC teachers.  We'll check back with Ms. Stacey and Ms. Colby for an update on the Fruit of the Spirit through Ocean Life projects later in the school year!