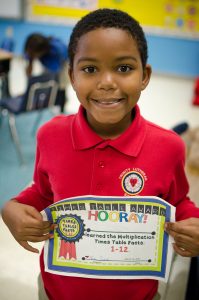 Every once in a while its good to kick back and celebrate your accomplishments.  After all, rewards are a great way to recognize the dedication and hard work it takes to achieve a goal.  Trinity's elementary and middle school students have certainly been working hard on their math skills this year and it shows in some very messy, smiling faces.
As Grades 3-4 students mastered Math Multiplication Facts this year, they earned toppings for an ice cream treat. Now we all know you can't eat a Multiplication Sundae without a bowl, so to begin building a Multiplication Sundae you have to know all your facts for 2, and when you do, you earn a bowl. And to eat a Sundae you need a spoon, so mastering 3's next earns a spoon. And we aren't even up to the ice cream yet! With each fact family mastered, another part of the Sundae is earned:
Fact Family

Treat

 

Fact Family

Treat

 

Fact Family

Treat

2

Bowl

3's

Spoon

4's

Banana

5's

Vanilla

Ice Cream

6's

Chocolate

Ice Cream

7's

Strawberry

Ice Cream

8's

Caramel Sauce

9's

Hot Fudge

10's

M&Ms

11's

Whipped Cream

12's

Cherry on top!

0's & 1's

You just have to know the easy ones!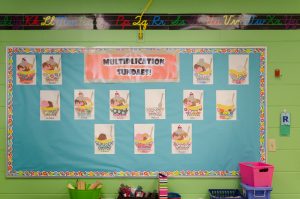 In the health-conscious school that Trinity is, you might wonder about all the calories that went into those sweet treats. So we did the math in the following equation:
X – Y = 0, where x represents the calories of brainpower and y represents the calories in a Sundae!
Previous blogs have shared Middle School student progress with IXL, Trinity's online math practice
resource. The middle schoolers solved an impressive 15,000 math problems back in November, and it seems they're on track to nearly quadruple that achievement.  Meanwhile, on the Sundae Celebration Day, Middle School students achieved another milestone at the end of the third quarter of the year, having completed 40,000 math facts! And we have an equation for extrapolating the number of IXL problems that will be finished at the end of the year:
40,000/x = ¾ and Middle School students are on track to complete 53,333 problems by the end of
the year.
The question is: Is the number of calories consumed in Multiplication Sundaes >, <, or = to 53,333?