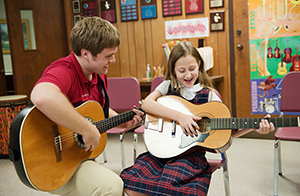 Every student in 5th through 8th grade at Trinity has the special honor of singing with the respected Chorister Choir. During this class, these students rehearse for their annual musical featured at Trinity's Christmas program at Lake Eola, "The Gift".
These students also have the opportunity to participate in the Trinity Ensemble, a group that features musical instruments of all types. Each class takes an annual trip the LCMS FL-GA Lutheran School Music Festival where they receive constructive criticism and ratings from respected adjudicators in the area.
Whether it is the music festival, Veteran's Day program, or even a weekly chapel service, you are sure to find one of these groups using the gifts God has given them to make a joyful noise. Stay up to date with music news, event information, and much more at the Music Director's blog, "Music Notes". If you would like more information or you have any questions, comments, or concerns, feel free to email the Music Director at the email address listed below.
Josh Brink
School Music Director
jabrink@trinitydowntown.com