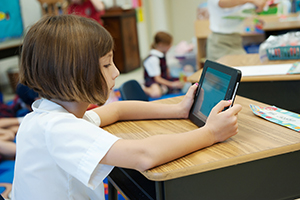 Welcome to Trinity Lutheran School technology webpage!  Use the tabs above to discover more about the tech tools behind the dynamic instruction in our K-8 classrooms.  Questions can be addressed to Dr. Brockberg.
Google Apps For Education are embedded into each Chromebook. From word processing to graphic calculators, touch-typing to tutorials, and shared documents and spread sheets, Chromebooks are essential tools for learning at Trinity.
Students in grades 3-8 rely upon their very own Chromebooks to access online textbooks, pursue tutorials, design projects, compose essays, collaborate by email, and by all means, have "an app for that!"   Our robust firewall, stalwart Go Guardian monitoring software, closed-enterprise only for Trinity students, and hearty acceptable use policy all guide students to safe, responsible, secure and optimal use of the technology at their fingertips.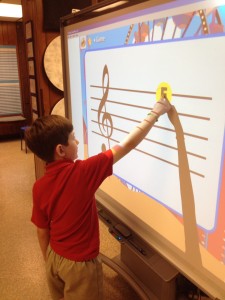 IWB = Interactive White Board
Every classroom from VPK through 8th grade enjoys the benefits of an interactive white board.  Gone are the days of clapping chalky erasers and gone are the days of squeaky faded markers!  Now, students are able to create, manipulate, and communicate with their computers with a simple touch of a finger, pen, Koosh ball, or even back scratcher.
On any day, you can find a Kindergarten student placing frogs on a log to learn addition skills, a third grader fishing for musical rhythms to perform, or an eighth grader performing a dissection, all through the power of an interactive white board.
Boards utilized at Trinity include SMART Boards, Promethean Boards, and Epson BrightLink projectors.
Students in Kindergarten to Grade 2 share iPads and learn in centers and in small group settings in our 2-students-to-1-iPad initiative.  Our robust firewall, stalwart GoGuardian monitoring software, and hearty student Acceptable Use Policy all guide students to safe, responsible, and optimal use of the technology at their fingertips.
Trinity teachers hone their own tech skills through Redbird Advanced Professional Learning, powered by the research of the Graduate School of Education at Stanford University.  Harnessing the utility and the wide-range of technology, teachers bolster their instructional repertoire with classes in:
Blended methodology
Technology integrations
Project-based learning
GAFE (Google Apps for Education)

Students in third through eighth grade study computing skills on a daily basis through the usage of Google for Education accounts.  Each child has their own email account setup through Trinity, a Google Drive account, and can access many other apps available through the Google Play store. With all of this access to web based technology, Trinity has implemented many security features so that students can explore in a safe and welcoming internet environment. Not only do the children discover how to better utilize their technology, they do so while also learning how to be a good and safe digital citizen. For more information about our Google for Education accounts or security measures, please contact Dr. Brockberg.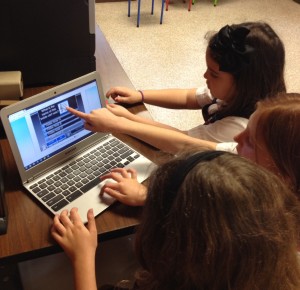 Along with Google Apps for Education accounts, students in sixth through eighth grade have the privilege of using take home Chromebooks while third through fifth grade utilize classroom sets.  With these netbook relatives, students can further their typing skills while using Google apps, online homework assignments, and even online textbooks.
These devices are highly secured but also incredibly powerful.  With them, students can easily share work with teachers, collaborate with classmates, create digital media, and access millions of online learning resources.
Please take some time to setup a tour of Trinity or visit your child's classroom to see some of the technology listed below:
Classroom Computers
Typing Computers
Tablet Computers
Document Cameras
Educational Website Subscriptions
Projectors
Flip Cameras