While the truly massive undertaking this past weekend was moving eighteen CDC classrooms in to the New Century Center in 48 hours to start school on Monday, another move continues to move us forward into excellence. As the first classroom in the school building was vacated by the CDC, shelving and books were moved from the Church basement making this classroom the new home of the school library.  "A library should be at the center of a school program.  The former basement location made it appear to be an afterthought, or an under-thought," quipped Dr. Brockberg. "The new location places it physically in the center of the Trinity campus, and with this location, CDC children will be able to visit the Library as easily as K-8 students will. This truly is a big step forward in literacy for all of our students."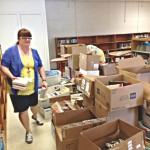 During the week, Karen Killinger, a member of Trinity Downtown and a faithful volunteer librarian for many years at TLS, assembled a team of  church members to begin unpacking and re-shelving books. Joining Mrs. Killinger are Lynn Hoctor, Darlene Sabin, Kathy Aber, Diann Grover, and Janine Delehunt, some of whom are pictured among the stacks of books. The process continues and we are looking for more volunteers to assist with shelving.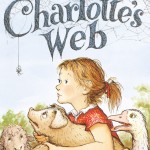 This year the K-8 teachers have resolved to enchant our students with reading. Ms. Lisa Crawford is leading this initiative as our Language Arts specialist in Grades 4-8 and she explained, "We are using Lexile scores from MAP tests to target reading levels this year. Following the three MAP tests this year, students will spend their Golden Tickets earned for their enthusiastic reading. Parents will learn more about the Golden Ticket Celebration at the Back-To-School night." Literature is also linked to Social Studies this year, students will be reading A Singe Chard (when studying Korea), Fever 1783 (from the America's Past curriculum), and Tree Castle Island (from Florida and It's People units). Novels are also the focus of reading instruction in Grades 2-3; Ms. Beltz will include these classic novels in her yearly Reading plans: Flat Stanley, Miss Nelson is Missing, Charlotte's Web, and more! From more Library time to Golden Ticket Celebrations and novel studies, teachers aim to enchant our students with reading this year.