Who? All Trinity Lutheran School students; from CDC children through K-8 students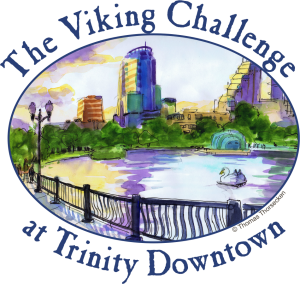 What? The Viking Challenge is Trinity's one and only annual school fundraiser. Students exercise aerobically at school on Wednesday, February 22 and start collecting pledges now from family and friends.
Why?  This is your school, and this is your opportunity to support two child-centered projects, the Big Oak Playground and the Fellowship Hall (Project Genesis)
How? Two ways: Trinity will mail out the information student families supply, or you can email the Viking Challenge link to family and friends online.
When?  Here is the Viking Challenge Timeline:
January 23 Kick-Off!  Students receive information packets to share at home with parents
January 23-February 13 Students submit sponsors address labels to the office, and/or connect online; you chose how to get sponsors
February 1-15 Prizes awarded to students for turning in sponsor sheets
February 22 The grand day! Students exercise aerobically to "earn" their sponsors' contributions to the Viking Challenge
---
TLS $50,000 Viking Challenge 2017
The students of Trinity Lutheran School challenge you to support their school with a donation, exercise aerobically, and watch and pray as we "Grow Together." Donated funds will be used to:
Complete the Oak Tree Playground with developmentally appropriate playscapes for CDC and VPK children, and to
Renovate the Fellowship Hall Cafeteria with an ambiance conducive to meals served family-style, peppered with quiet conversation, all in an atmosphere of etiquette and courtesy,
Oak Tree Playscape Funding 
Oak Tree Playscape  Play permeates the development of every child in the CDC.  Outdoor play fosters and extends creativity, imagination, motor skill competency, social connections, and mature behavior.  Intentionally green this Playscape is engineered to optimize play in Trinity's enterprise of child development in the CDC.
We aim to raise $25,000 to engineer the Oak Tree Playscape.  Added to our PTL contribution of $10,000, and combined funds from our Buy-A-Brick Campaign, we hope to have the children's Playscape completed in 2017, with these fun, engaging elements
StoryBook Cottage
Crawl-Through Caterpillar
Jump-Start Climber
Kinetic Play Panel

Project Genesis Funding
Project Genesis is our second initiative this year, continued from last year's Viking Challenge.  With onsite food preparation and service, Trinity optimally leverages early learning to introduce healthy, natural, nutritious alternatives to processed and packaged foods for toddlers to teens.  We are seeking to promote the appeal of healthy foods as tasteful with a facility to parallel the quality of our aims.   We believe that a contemporary, modernized facility will become a Genesis to the joy of eating well, all lifelong, beginning at Trinity Lutheran School.
We aim to raise $25,000 from the Viking Challenge for:
Walk-In Food Storage Cooler
Nutrition Education
Non-Disposable Plates and Flatware
Mobile Café Tables and Chairs
Acoustic Ceiling, Lighting, Laminate Flooring, New Doors, Awnings, and Partitions


---
Contribute To The Viking Challenge?
Suggested sponsors of TLS students are family members, relatives, close friends, neighbors and those with whom you do business (hairstylist, piano teacher, soccer coach, doctor)
Send this link for your sponsors to connect with our web page and donate: (http://school.trinitydowntown.com/vikingchallenge/)
How Sponsorship Works
Viking Challenge 

Group

Viking Challenge 

Activity

Duration of Activity
How to donate
CDC children
Indoor obstacle course
 20 minutes
Either:

Pledge an amount per minute
Sponsor with a set donation for the 20 minutes

VPK, Kindergarten, Grades 1-2
Run/walk around the soccer field
 20 minutes
Either:

Pledge an amount per minute
Sponsor with a set donation for the 20 minutes

Grades 3-8
Run a 500-yard course around the campus
30 minutes
Either:

Pledge an amount per minute
Sponsor with a set donation for the 30 minutes
Pledge an amount per each lap of 500-yards
Thank you for promoting your 
TLS Viking Challenge 2017!