$50,000 Viking Challenge 2018
The students of Trinity Lutheran School challenge you to donate as we "Manifest the Spirit!"
Help us follow the advice of Dr. Seuss, so all

"can find the magic wherever you look, sit back, relax, all you need is a book!"

Trinity's Magic of Reading literacy initiative across the campus will place new leveled books in CDC and K-8 Classrooms and the Library.

Plate our nutritious meals in the Fellowship Hall Cafeteria with an ambience conducive to meals served family-style, peppered with quiet conversation, all in an atmosphere of etiquette and courtesy.
The Magic of Reading
permeates the development of every child in the CDC and K-8 classrooms.  Reading fosters and extends creativity, imagination, an awareness of a world beyond one's own, social connections, and mature behavior.  Books are the infrastructure to engineer and optimize literacy in Trinity's enterprise of development for all children at Trinity Lutheran School.
Magic of Reading Funding
We aim to raise $20,000 to invigorate and add new books and build larger base of reading resources for all students at Trinity.  Whether in our Library or Classrooms, "It is not enough to simply teach children to read; we have to give them something worth reading. Something that will stretch their imaginations—something that will help them make sense of their own lives and encourage them to reach out toward people whose lives are quite different from their own," notes Katherine Patterson, the celebrated author of Bridge to Terabithia, The Great Gilly Hopkins, Park's Quest, and 30 more fascinating books that do indeed stretch the imagination.  Your gift will help to purchase rewarding resources across the spectrum of the whimsical to the worthwhile in
Picture Books and Early Readers
Chapter Books, Classic and Contemporary Novels
Books and Picture Books about Faith and the Christian Life
Non-Fiction resources for STEM-Science, Technology, Engineering, and Mathematics
Project Genesis
is our second initiative, launched through a partnership with the Nemours Hospital Healthy Foods Cooperative.  With onsite preparation and food service, Trinity optimally leverages early learning to introduce healthy, natural, nutritious alternatives to processed and packaged foods for toddlers to teens.  We are seeking to promote the appeal of healthy foods as tasteful with a facility to parallel the quality of our aims.   We believe that a contemporary, modernized facility will become a Genesis to the joy of eating well, all life long, beginning at Trinity Lutheran School.  We aim to plate nutritious meals in a refreshingly plated cafeteria!
Project Genesis Funding
We aim to raise $30,000 from the Viking Challenge for:
Walk-In Food Storage Cooler
Nutrition Education
Acoustic Ceiling, Lighting, Laminate Flooring, New Doors, Awnings and Partitions
How does the Viking Challenge work?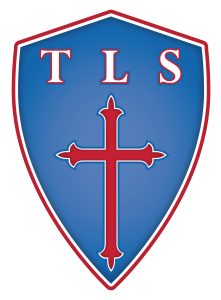 You may be familiar with the Ice Bucket Challenge, the fund raising phenom of 2014 for the cause of ALS research.  At Trinity our Viking Challenge is more than a quick cold splash.  We are challenging you do dive in, dash, pedal, wheelchair, walk, skateboard, jog, you can choose what to do with your family and friends.  We want you to enjoy the challenge of fun and fitness and to remember Trinity with a gift for our encouragement to get active.
Join us, in person, spiritually, or virtually, to support and foster an education embracing the future, while being rooted in a foundation of deep, lasting tradition. At Trinity Lutheran School we challenge you to help us build a dynamic learning community, growing together in Christ's love.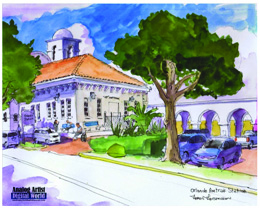 Our Thank You
We want to express our appreciation to you with special gifts. Throughout this webpage we featured the art of urban sketcher Thomas Thorspecken. Under his training, our students learned the technique and will send you their own reproductions for your contribution. "Thor" has sketched Trinity and our Viking Challenge event, and these gifts will be sent to those contributing at a higher level.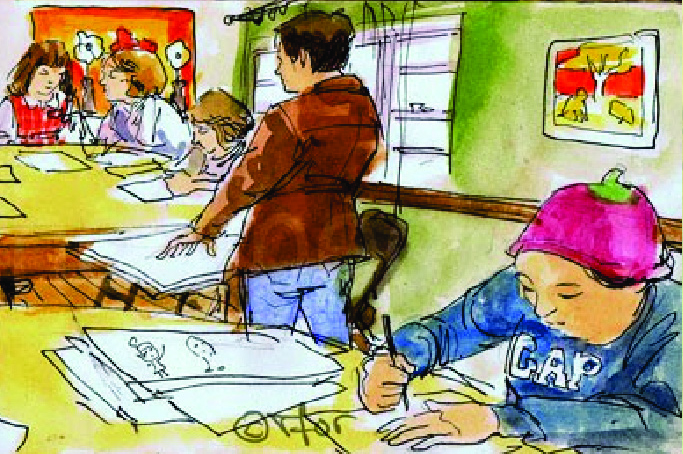 Do You Know?
Since 1953, over 1200 students have graduated from Trinity Lutheran School in Downtown Orlando!
The City of Orlando declared March 13, 2016 as Trinity Lutheran New Century II Day to honor the Dedication of our new 28,000 square-foot, state-of-the-art Child Development Center.
Our school values are Respect, Responsibility, and Hard Work. You might know these, as all our students do, as our Three Big Rules.
To prepare our graduates for success in high school and beyond, our exit standards encompass:
· Algebra I: Our graduates then enroll in high school Geometry as freshmen.
· Spanish I: Our students are prepared for Spanish II in high school.
· Advanced Topics in Physical, Life, and Earth Sciences: Our students know Science as inquiry!
· Religion:We draw each student toward conviction and the ensuing confidence to declare, "I know what I believe and why I believe it!"
· Learning with a Chromebook: Throughout Middle School it's more than a device; this laptop is their own personal responsibility, integrated into every core subject.
· Field Experiences away from Trinity: Adventures in learning at St. Augustine, the Kennedy Space Center, Driftwood at St. Simon's Island, the Florida Keys Marine Lab, and Washington D.C.
Nestled in downtown Orlando, TLS provides a nurturing and educational environment for infants through eighth grade.  Whether in our warm and cozy infant/toddler settings, home-like preschool atmosphere, vibrant elementary classrooms or pulsing middle school, our parents know we wrap our students in the loving arms of Jesus Christ. Our secure five-acre campus provides ample space for our state-of-the-art Child Development Center, sports field, full-size gym, science and portable technology lab, art studio, and a historic setting for our weekly chapel worship. Music? Spanish? We have those, too.  

 

Become a part of the Trinity family and experience award-winning education that embraces the future while being rooted in foundations of tradition.  Trinity Lutheran School… nurturing Christian character & promoting academic excellence.