Our teacher, our aims, and our active curriculum!
Our Active Curriculum encompasses
Three Big Rules we know by heart: Respect, Responsibility, and Hard Work — We sing a song about this!
Authors we love: Dr. Suess, Eric Carle, Leo Leonni, Mo Willems, Ourselves (we are young authors ourselves), and many, many more!
Math we know: Counting, Grouping, Patterning, Problem Solving
Science we explore: Animals Two by Two, Materials in our World, Trees and Weather
Faith and Religion we affirm: Jesus loves me! Jesus loves you! I love my neighbor as I love myself!
Technology we use every day: Interactive SMART Board, iPads in our Interest Centers

Our Aims for Our Students
Trinity Lutheran School promotes academic excellence, nurtures personal relationships with God, and prepares all students to lead responsible, purpose-filled lives for Christ.
Meet Our Kindergarten Teacher, Mrs. Brooke McKinnon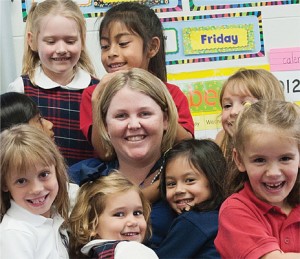 A member of Trinity Lutheran Church since her childhood, Trinity Lutheran School welcomed Mrs. Brooke McKinnon as our Kindergarten teacher in 2010. Her experience in Early Childhood programs coupled with her background in building engaging classroom communities graces our young children's own experiences in the Elementary School.
Mrs. McKinnon holds both her Bachelors and Masters of Arts in Education from the University of Florida, and is credentialed with Florida Professional Teacher certification with endorsements in Reading and ESOL (English as a Second Language instruction). Mrs. McKinnon furthered her preparation for service at Trinity by completing theological studies at Concordia University in Chicago, and is valued as a Commissioned Minister of the Lutheran Church.
Professional biographies of all Trinity Lutheran School Teachers can be viewed on our website at school.trinitydowntown.org