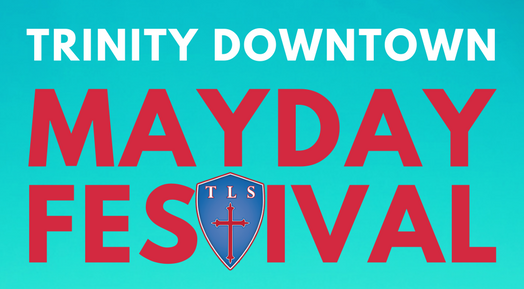 Trinity families enjoyed beautiful weather and raised money for our school at our second annual Spring May Day Festival on May 5. So many people donated their time, money, and talents to make this PTL-sponsored school fundraising event possible. The children of Trinity Lutheran School really out did themselves this year; all the art auction pieces are so beautiful. Many teachers and administrators made creative and delicious desserts that were live auctioned off. Children grabbed a ribbon and danced around the May Pole, enjoyed delicious snow cones from Kona Ice and custard from Freddy's, created Spring-time crowns, got their faces painted, shot some hoops, and won some Gatorade at the toss. We had some competitive adults take home more than one bottle of wine in the Wine Toss! Students worked really hard to make sure Dr. Brockberg, Ms. Colby, Ms. Liz, Coach Louis, and Ms. Jones got very, very wet in the dunk tank!
Thank you to all the volunteers, staff, vendors and participants who made this a fantastic event! Thank you to Green Coat Catering and Raising Cadence for providing the food and music for the event! Thank you also to the PTL board and May Day Planning Committee for your very hard work to make this event great. We don't have final numbers yet, but the Art and Dessert Auction alone raised more than $1,500 to help fund school needs and programs through Trinity's PTL.
The PTL would especially like to thank the following people for sponsoring portions of the event. Without you, this event could not have happened!
-Patty Moser & CDC Teachers: $175 for Dunk Tank
-K-8 Teachers: $100 for Craft Supplies
-Professional Litigation Support (Tourelle Family): $150 for Face Painting
-Russian Ballet Orlando (Katerina Fedotova): $250 for Art Auction Supplies
-The Wasielewski Family: $100 for Megawire Game
-The Brockberg Family: $250 for Raising Cadence (Live Band)
-Gustavo DeOliveira: $75 for the Duck Game and $85 for the High Striker Game
-The Guha Family: $50 for the Fishing Game
-Pividal and Zaharias Families: $100 for Volunteer Meals