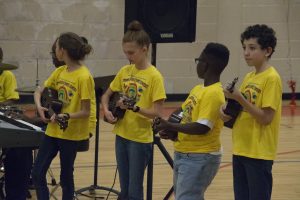 The end is nigh! That's right. The school is drawing to a close. Pretty soon there will be classroom parties and graduations.  Final exams and final projects will be handed in and yearbooks full of memories will be gathering signatures and well wishes for the summer ahead. These end of the year festivities kicked off with Trinity Lutheran School's annual Spring Concert this year titled, "A Gift To You: Spring Music and Dance Concert."
As families filed into the gym, the students were buzzing with nervous energy.  Long lines of yellow shirts ready to show off everything they learned over the past few months to their families and friends. After a quick welcome and opening prayer from Pastor Ken Green, Senior Pastor at Price of Peace Lutheran Church and proud Trinity parent), the VPK students started the show with the songs, "Do You Know Who Died For Me?", and the cutest rendition of "Baby Beluga" anyone has ever heard; complete with our own baby beluga swimming in the ocean!
After the opening from Mrs. Malenke's VPK classes was a colorful dance routine from Ms. Joleen's Defining Movement Dance Team.  Students through 2nd grade expressed themselves through a mix of hip-hop and jazz dance to the songs "Move Your Feet," "Can't Stop the Feeling," and of course the finale, "True Colors." The audience was reminded, through dance, that they should be true to themselves and do what makes them happy, not necessarily what society expects of them. We were reminded to show our true colors!
"The concert was a culmination of musical experiences shared with the preschool children throughout this school year and a personal blessing for me as I watched the joy on their faces as they sang together.  I count it a privilege to work with these young children every day and to be in a position to help pass along an appreciation for and love of music." – Mrs. Malenke
The second half of the concert was headlined by Trinity's K-8 students, under the direction of Mr. TJ Howard. They sang more songs about being part of God's family and growing up in faith.  Songs "Tree Hugger" and "Our God" were accompanied by soloists and students with whom Mr. TJ has been working in private instrument lessons.  Guitars, pianos, and drums helped to give a full sound to the 70-some students who proudly sang of their faith in front of a full audience (standing room only!).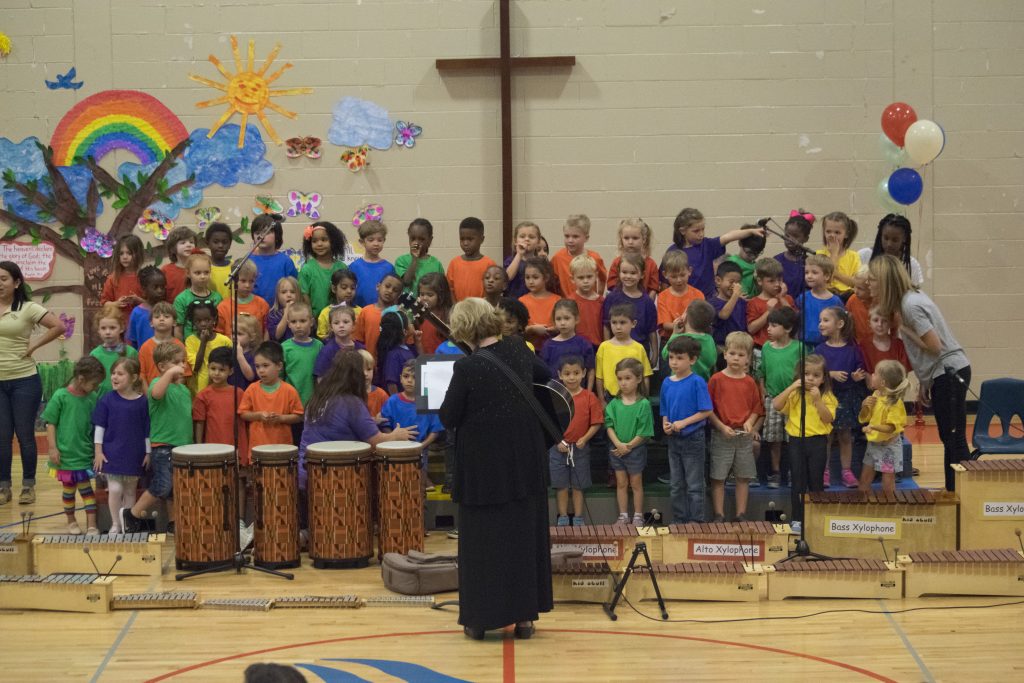 The finale song, "A Gift To You," was sung by all the children, VPK through 8th grade again.  Starting off as a chorus with a call and response type number.  Eventually, everyone in the gym gathered together in song. Young and old child and parent sang together this last song of the evening.  "A Gift To You" seemed an appropriate ending to an already special night.  Trinity students, indeed, did give everyone a special gift through song and dance.  All who were present were treated to a great evening and a special gift.
"I am so proud of what the students accomplished. They nailed it. Everyone experienced something new in this concert. They sang songs that were more challenging and played instruments they had never played before. The best part was seeing an interest spark in so many students that had never been there before. That, to me, is the greatest reward." – Mr. TJ
Mrs. Malenke, Mr. TJ, and Ms. Joleen all wish to thank everyone who helped to make the night a success.
From the back of the program:
"Thank you to: Our Lord and Savior, Jesus Christ, for giving so many reasons to make music to glorify His name.  All of Trinity's students who celebrate God's gift of music with all of their talents, and who creates the beautiful artwork which decorates the gym in a Spring theme.  Our students' parents, who by virtue of choosing Trinity Lutheran School for their children, allow us the privilege of teaching them our passion-music and dance. Dr Kevin Brockberg, Mrs. Patty Moser, and Ms. Colby Howard for their support of our school music programs. Thank you to Trinity's dedicated and gifted team of CDC and K8 teachers for encouraging their students to express themselves both academically and musically, to Ms. Chanda Gillenwater, Trinity's Ministry & Communications Coordinator, for designing our beautiful concert poster and program, Mrs. Glenda Frazier, Trinity Lutheran Church member, for volunteering her musical gifts to accompany the Grace Notes Choir, and to Mr. Fred West for his gracious loan of a Taylor guitar while mine (J.M.) is at the luthier."
---