Although you might not be able to see it, every person has a bucket. How do we fill it? We put drops in people's buckets by modeling ourselves after Jesus and showing kindness, generosity, and respect to others. This is the message that Ms. Colby and Ms. Stacey teach throughout the year. Last Friday, their students had the opportunity to take that message beyond the classroom and put some much-needed drops in the buckets of the many homeless men & women and the volunteers working at Compassion Corner.
The class walked over to Compassion Corner, a homeless outreach located at 425 N. Magnolia Ave, on Trinity's property adjacent to the Magnolia building.  Homeless men and women and volunteers gathered to listen to 4-year-old voices belt out Christmas carols like "Angels We Have Heard on High" as well as some special school songs they have learned this year. The songs brought claps and cheers from the audience as more and more people gathered to listen. For their closing number, Ms. Stacey asked the men and women to join the children in a rendition of "Silent Night," and everyone chimed in to sing the familiar tune.
When the songs were over, students served the men and women hot pizza from Flippers and said goodbye to them by singing "We Wish You a Merry Christmas."
As the class lined up to leave, one of the men commented, "Isn't it wonderful that when you have doubt, how God can show you that He is real through children."
Once they were back in the classroom, the students reflected on the experience and shared their thoughts.
"We need to help them. Being kind and sharing is a present to baby Jesus."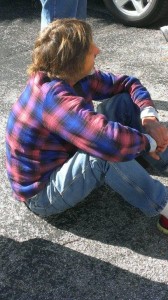 "Every day when I come to school I see Compassion Corner. I'm glad we went there. I liked giving pizza to the guys and they really liked it. It was cheese pizza!"
"The days before we went to Compassion Corner I was talking to my Dad and told him I want to get them a Christmas tree."
"We sang Silent Night together with them and it made me think of Baby Jesus."
"I feeled happy about myself and proud of myself because I wasn't thinking, 'hey, I want pizza!'"
From their feedback, it sounds like this experience taught the children an important truth about buckets. Filling others' buckets also fills your own.
 "The King will reply, 'I tell you the truth, whatever you did for one of the least of these brothers of mine, you did for me.'" Mathew 25:40
Share