Here at Trinity, we're all about sharing the Gospel!  In preparation for Easter, eight of Trinity's classes, totaling 160 students and 22 teachers/helpers, participated in "Rise Up," a fun-filled morning devoted to learning about the last week of Jesus' Life.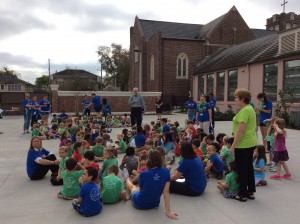 This experiential learning activity started in the courtyard with a praise and blessing opening by Pastor Martin. Following the opening, children moved through stations, each with an important hands-on lesson about Easter.  Each Lead Teacher had an activity for the students to help teach the Passion Story.  Stations included a movement activity to symbolize how heavy the rock was in front of the tomb; a science experiment showing how we can turn something dark into light; coloring special glasses that showed a rainbow when worn; a snack that might be shared if Jesus came to our house; a whirlybird to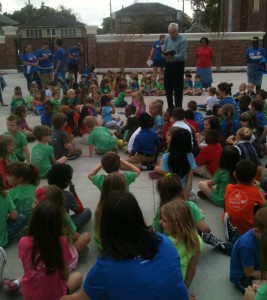 represent how Jesus rises up at Easter; a Resurrection Eggs story including color-coded pictures to represent each event of Christ's last days; gathering those color-coded eggs to put the pictures in; and a simulation of what the empty tomb looked like. Each station was 15 minutes in length and the entire experience lasted about two hours.
The overall opinion of all those involved was that this was an amazing teaching opportunity and that we should definitely make this an annual event – everyone loved it!  What a gift to be able to teach children about the life of Jesus and the great sacrifice he made for all of us.  Blessings on your Holy Week, Trinity family!  We are blessed.
Experiential Learning Stations: