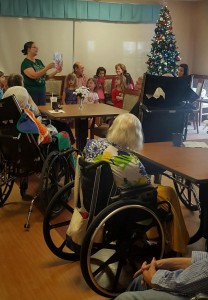 This Christmas season the Garden of Adventure VPK class took a Saturday field trip to the Delaney Park Nursing Home. Joined by students, staff, parents and grandparents, they sang Christmas carols and read Christmas stories to the residents in their fellowship room. The residents joined in singing Silent Night and had cookies and candy canes for the children.
After spending some time visiting, the class Christmas-caroled down the hallways for the residents who could not leave their rooms. One resident was even dancing in his bed while we sang!  Teachers reported back that "it was a joyous time" and everyone who participated was filled with the excitement of sharing the hope & joy of Christmas with others!
On another recent trip to see a performance of The Nutcracker, due to rain the VPK classes took the city limo bus from the courthouse to the Dr. Phillips center.  These VPK students sang their favorite Christmas carols all the way there!  One woman who was riding the bus shared with a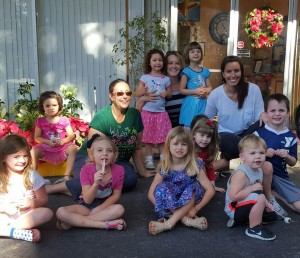 teacher that it was the best bus ride ever.  The joy was contagious!  Everyone on the bus was wishing each other Merry Christmas as we got off.  VPK teacher Stacey Carroll says, "It still gives me goosebumps!"
As St. Paul writes in Ephesians 5:19, "Speak to one another with psalms, hymns and spiritual songs.  Sing and make music from your heart to the Lord." These students and their teachers are doing just that!  By connecting with others through song, they're sharing the hope and joy of the Christmas season. What a blessing!