Long ago the shepherds, angels, and animals all gathered around to adore and sing praises to the newborn King, and this week Trinity Lutheran School students gathered around Trinity's gymnasium to celebrate that silent night. This year's all-school assembly included students and staff from all CDC and K-8 classrooms and featured festive decor, a Christmas storybook readying by teachers (Listen To The Silent Night, by Dandi Daley Mackall), Christmas carols sung by all, and a beautiful live nativity to center us in the true reason for the season.

Energy filled the room as our students gathered together in the gym excited to take part in this grand celebration. While all were eager to head out for Christmas break and spend time with their families, this particular morning was spent taking a moment to celebrate the birth of Christ with their church and school family! Trinity students burst out with joy and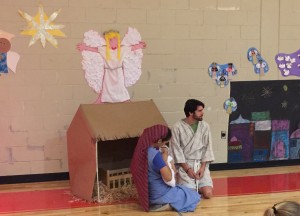 laughter during the storytelling and sang loud and clear their favorite Christmas carols.
As the assembly drew to a close, the entire school family came together to sing "Silent Night" acapella as Mary and Joseph, from the live nativity, walked to the stable and manger, carrying newborn Baby Jesus. Afterward, many classes spent the rest of the morning making Christmas crafts to take home and share that message of hope in Christ's birth with their families.
This Christmas assembly was indeed a splendid way for students and staff to come together to celebrate the birth of Christ here at Trinity.  From everyone here at Trinity Lutheran School, Merry Christmas!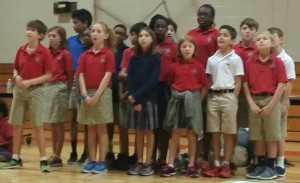 Below are links to some of the songs that the students sang during the assembly:
"There Was A Little Baby" -Raffi
"Away In A Manger" – Kids Sing