"O Lord, Listen! O Lord, Forgive! O Lord, Hear and Act! For Your Sake, O My God…"- Daniel 9.19 (NIV)
The students and staff of Trinity joined together in prayer for the National Day of Prayer on Thursday, May 4. The National Day of Prayer has grown to become a worldwide event since the First Continental Congress inaugurated a "call to prayer" in 1775; in 1952 President Harry Truman and the US Congress declared a National Day of Prayer to be recognized the first Thursday in May each year.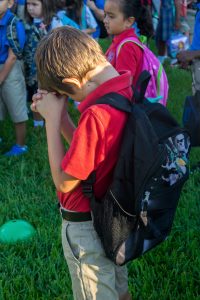 Trinity gathered for Morning Assembly at the flagpole to begin our day-long, campus-wide observance of this year's National Day of Prayer. Our observance began at the flagpole, with students pledging allegiance to the United States flag and the Christian flag; we honored these colors because our nation was founded upon prayer and a reverence for God and His Word. Following the invocation by Mr. Miessler, Tech/Athletics Support for TLS, beginning our day in the Name of the Father, Son, and Holy Spirit, Dr. Brockberg, Trinity's K-8 Executive Director, prayed that God would open our school to his grace, and students would open their minds to learn and grow.
Every hour on the hour, Trinity staff read their prayers over the intercom for all to hear. At each hour, honored guests led prayers for our families, our world, our teachers, and God's provision of safety at Trinity. Our leaders included: Ms. Liz Roberts (Finance Manager for Trinity Lutheran Church & School), Miss Colby Howard (Director of Education at the CDC), and Deaconess Liz Borth (Deaconess to our church and school families serving from the Pastoral office of Trinity). At noon, the proclaimed hour of prayer, we listened to excerpts from the official cry of faith, prayed by Chef Rich Poole (Food Service Manager):
"We worship You, God of Abraham, Isaac and Jacob. Father of our Lord Jesus Christ. You are the living God of our nation's founding fathers: George Washington, John Adams, John Hancock, Benjamin Franklin, Samuel Adams, Patrick Henry, and many others. When we pledge our allegiance, it's as one nation under You.
We acknowledge that You are the One who has set us high above all the nations on the earth. You have made us the head and not the tail. We have led the free world. The whole world has known that we are identified with You, and they have respected us.
Again and again, You have given us victory over our enemies. You have blessed us in our bustling cities and in our beautiful countryside. You have blessed our "fruited plain" so that we have had an abundance for ourselves and for others. You have opened up the storehouse of Your bounty, and have blessed the work of our hands.
We now turn to You as the God of Our Fathers. You alone are our Hope for the future.
Therefore, we turn to You with tears of shame and a heart of fear. We repent of our sin. Please, God of Our Fathers, do not back away from us. Do not remove Your hand of blessing on us. As we return to You with humility…With sincerity…Out of necessity…With a desperate sense of urgency. Please! Return to us! Hear our prayer. Forgive our sin. Heal our land.
For the Glory of Your Great Name…JESUS.
Amen"
Against the backdrop of hourly, hallowed prayers, we drew closer to our gracious and loving God, who promises to hear all our prayers.
Copies of our hourly prayers are available to you upon request.