Good Afternoon Trinity families!
I hope you aren't feeling too waterlogged and that the sun comes out so we can enjoy the weekend.
One of the requirements of maintaining an advanced director's credential is that you mentor teachers in other programs through the last part of attaining their Early Childhood Credential. The first step is that they have a high school diploma and they have worked in childcare for over a year, next they must complete 160 credit hours of Early Childhood coursework.   The final step is the validation assessment by a certified Professional Development Specialist.  Today I had the opportunity to visit and observe an amazing teacher; at the age of 71 she had decided to go back to school and earn her certification.   I arrived at a very  small center in Pine Hills at 7 am.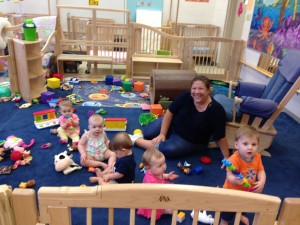 I was greeted by Ms. Phyllis who already had 4 babies all under 5 months old in her classroom.  There were no swings and bouncers, just Ms. Phyllis on floor with 4 beautiful children.  There were not a lot of toys or expensive equipment but I watched this woman take care of these babies with so much love and dedication it brought tears to my eyes.  She sang, she touched, she bounced she spoke softly and reassuringly when they were sad and she raised her voice with excitement as they rolled over and cooed back to her.  It was truly a delightful morning in that classroom.  It reiterated to me the importance of the people who care for our children day in and day out and the kind of spirit that is required to love, nurture and teach our youngest learners!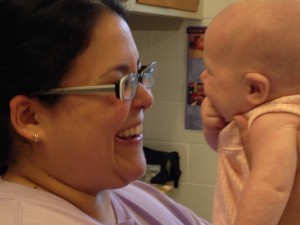 As parents you are your child's first and most important teacher.  Your love is unconditional and all-consuming.  However, it is not that different for most of our teachers who are committed to the care and education of your children every day.  Some of them have degrees the field of education and early childhood, others in chemistry or business, some have a high school diploma and 160 hours of credit hours or are working on their Child Development Credential.  The one thing that they all have in common is a calling to care for, nurture and educate children; all children.  So today I want to send a huge thank you to all of our teachers at Trinity who work so diligently and love so broadly.  We are all truly blessed to have them in the lives of our children.  I know I do not say thank you enough to show them the appreciation they deserve.  They are so talented!
Today is also Alysa Motherwell's last day at Trinity.  She has decided to go to school full time and finish her degree in education.  I am not sure where she will end up, but wherever that may be they will be blessed with a strong loving young woman who has every child's best interest at heart.  Thank you Alysa for taking such great care of so many little hearts.  Alysa has  only been with Trinity for 2 years, but in that short time she has impacted the lives of at least 38 babies.
Below is an article about the recent tornados that hit Mississippi.  Read what one Child Care Center teacher did to protect her "kids"!
http://www.msnewsnow.com/story/25385030/4-year-old-found-in-rubble-from-the-storm-is-recovering
Have a wonderful and blessed week!
Thanks and blessings,
Patricia L. Moser, Director
Trinity Child Development Center
123 E. Livingston Center
Orlando, FL 32801
(407) 925-8694 (cell)
Shepherd the flock of God that is among you, exercising oversight, not under compulsion, but willingly, as God would have you; not for shameful gain, but eagerly; not domineering over those in your charge, but being examples to the flock. And when the chief Shepherd appears, you will receive the unfading crown of glory.  1 Peter 5:2-4