Trinity is committed to the quality care and well-being of our students and families!  Healthy eating habits are a big part of that quality care. Healthy minds start with healthy eating habits, and those habits start in the home, and are then taught, encouraged, and reinforced in school classrooms at snack time and in school lunch rooms each day as well. Mr. Rich Poole and Mrs. Julie Wells are our Trinity Food Service team members who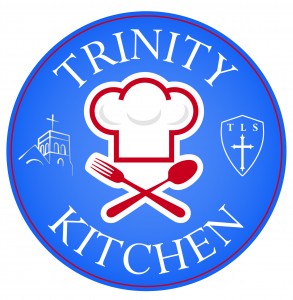 are responsible for meal planning and preparation for Trinity Lutheran School.  Trinity's kitchen currently prepares approximately 3,500 meals & snacks each week to be served to the K-8 & CDC children. We recently sat down with our Food Service Manager, Mr. Rich Poole, to ask a few questions and discuss what being healthy means to him.
TLS: "What does the term "healthy" mean to you?
RP: "Homemade. Fresh. Local. What kids typically eat, like Lunchables, drive-thru, really anything processed, in my opinion can never be healthy."
TLS: "When you are preparing the meal plan for the week or month, what guidelines do you follow?"
RP: "We try to be aware of the several allergies our students are diagnosed with and when we can make our menus with them in mind. We won't always be able to accommodate all the allergies but we have made a sincere effort in adding these allergies into the food we prepare. We stick to the "Homemade, Fresh, Local" triangle as best as possible. We include one fun meal per month for example, yesterday (9/16) we had a pancake day with avocado scrambled eggs, fresh cut cantaloupe and turkey sausage for lunch and of the 60+ other entrées we rotate frequently."
TLS: "How do these apply to the Healthy Habits Collaborative?"
RP: "All the ingredients and food that we use go beyond the government's "school grade" food rating. Meaning with keeping our budget in mind we try to make all we can, daily, with fresh ingredients, we make our own (baked) chicken nuggets, lean ground beef for burgers or shepherd's pie and ground turkey for our turkey tacos and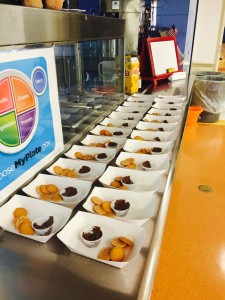 burritos… we made a conscious effort last year to remove meat hot dogs and to keep that kid favorite on our menu we replaced them with 100% all white meat turkey dogs.
TLS: "How do you decide which meals to prepare?"
RP: "I like to prepare meals that remind me of family. In fact, a lot of my recipes are handed down from my grandmother and great grandmother, I like to make meals that are hearty, familiar, and bring comfort. I do try to rotate one meal in a month that might be new to the children like orange chicken or eggplant lasagna.
TLS: "Do you have any tips or suggestions for parents that pack their child's lunch themselves?"
RP: "It takes effort to prepare a healthy meal for your kids. Look and think about what you are shopping for when buying lunch items. It also helps to let your kids help you make their lunches or their dinners with you.
TLS: " Finally, who is your favorite chef, or which chefs do you gather inspiration from most?"
RP: "Jamie Oliver. I really like his focus on nutritious food that tastes good too. I thought what he did with public school lunches recently on TV confirmed that we are on the right track of what we are doing at Trinity."
TLS: "What is your favorite thing about your role with Trinity?"
RP: "First and foremast I have never had a better job… I love what I do! Being a part of Trinity and in this great kitchen allows me to be creative and introduce things to the kids that they may have never knew they liked."
TLS: "That makes it easy to wake up for work in the morning huh?"
RP: "Oh definitely!"
TLS: "Thanks Rich."
For more information as to what Trinity is serving this month a schedule of lunches is made available on the school website under parent resources or in the front office.
For more information about our Healthy Habits Collaborative please visit:
For a list of age appropriate jobs that children can help with in the kitchen: