STAR Early Literacy Testing
Throughout the school year students in Kindergarten through Grade 2 take several assessments to gauge their progress in Reading and Mathematical skills.  STAR Early Literacy Tests are administered three times each year (often more!) as an iPad-based diagnostic assessment for determining early literacy and numeracy progress for emerging readers at Trinity.  Teachers and parents receive valid, reliable, actionable reports concerning Reading Foundational Skills, Language, and Numbers & Operations.
In particular, STAR gauges growth over a year of classroom instruction covering three domains of the following eight fundamental literacy skills:
Reading Foundational Skills
Print Concepts
Directionality
Letters and words
Word length
Word borders
Visual discrimination/alphabetic principles
Alphabetic sequence
Print features
Phonological Awareness
Rhyming and word families
Blending, counting and segmenting syllables
Blending and segmenting words
Distinguishing long and short vowels
Isolating initial, final, and medial phonemes
Adding and substituting phonemes
Phonics and Word Recognition
Spelling-sound correspondences: consonants
Spelling-sound correspondences: vowels
Regular and irregular spellings
High-frequency words
Inflectional endings and affixes
Syllables
Fluency
Reading for purpose
Reading with comprehension
Reading repair and self-correction
Reading pace (word count per minute)
Prosody (rhythm and intonation)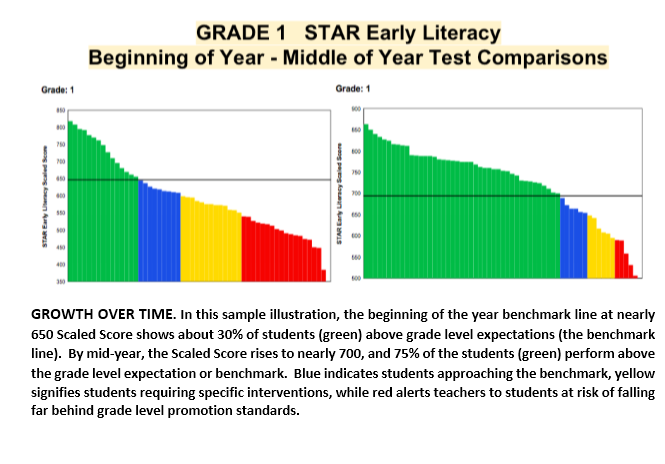 Language
Vocabulary Acquisition and Use
Word relationships
Structural analysis
Antonyms
Multiple-meaning words
Synonyms
Numbers and Operations
Counting and Cardinality
Number naming
Number identification
Number-object correspondence
Sequence completion
Operations and Algebraic Thinking
Composing
Decomposing
Calculating
Measurement and Data
Length and mass
Understanding data
Reports about student growth across these skill sets are shared in Parent Conferences, Curriculum Night Presentations, and with Report Cards.  Students proficient in these skills are ready for Grade 3, and in Grade 3 students then take Measures of Academic Progress tests (MAP®) three times a year to gauge growth through Grade 8.