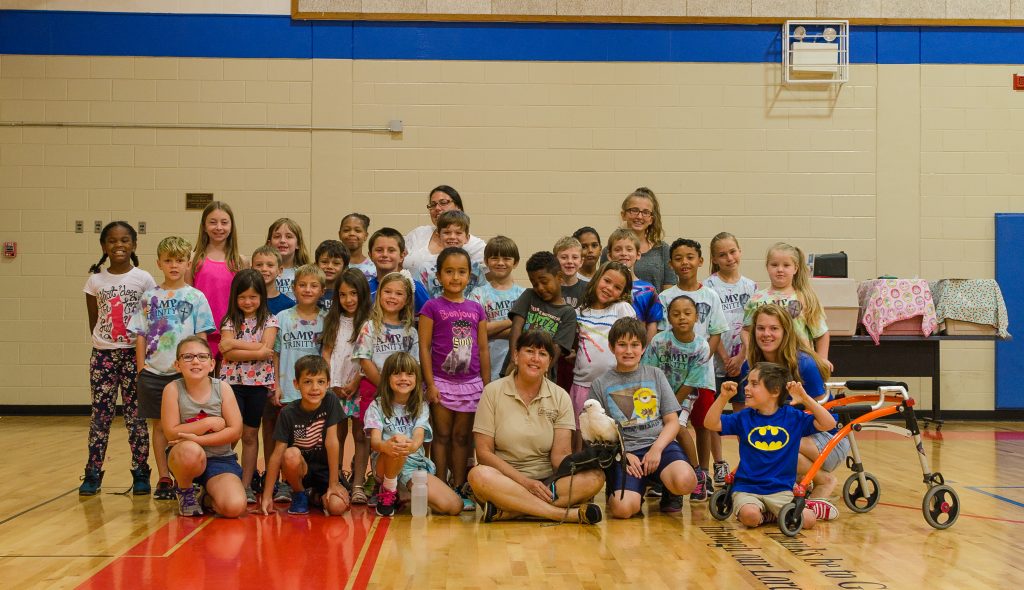 Have you ever wanted to go to clown school? Have you ever met a peregrine falcon, or how about a screech owl named Lucy? What about watching medieval knights duel each other in a jousting tournament? Well, campers can experience all these things and more at Camp Trinity.
Camp Trinity is a great way for kids to make friends, explore their world and learn new things during the summer months.  Campers spend their days learning about the week's theme.  Tuesdays, Wednesdays, and Thursdays campers get to go to the movies and spend time at the Orange County Library while afternoons are spent relaxing and playing by the poolside at Lake Highland Prep's pool facility.  Wednesdays feature an afternoon kids' chapel service at Trinity Lutheran Church where ministry leaders share an engaging message and object lessons which inspire & encourage spiritual growth & development in the midst of all the summer fun!

Part of the day-to-day fun of Camp Trinity involves taking part in a STEAM program. Our STEAM (Science, Technology, Engineering, Arts, and Math) program utilizes hands-on activities to make learning fun. These activities also challenge students, giving them the opportunity to engage and explore during summer months when learning typically sits on the back burner.
Campers also take part in "Camp Google" during the day. The content for Camp Google was created in collaboration between engineers at Google, educational organizations like Khan Academy, and content specialists such as National Geographic Kids, NASA, and National Parks.  Campers get to further explore and discover more about a variety of STEAM topics.
Camp Trinity is a fun-filled way to spend the summer staying active in body, mind and spirit! Campers arrive bouncing with excitement every morning and leave with smiles on their faces.  New friends will be made where every day is an adventure. So, finish off the summer with Camp Trinity.
It's never too late to REGISTER.
---