The 3rd, 4th and 5th graders of Trinity Lutheran School recently went on a field trip to Tallahassee where they learned about Florida's history and culture. Dr. Brockberg took a few moments to share with us what the students experienced on their trip to Florida's Capitol.
"The parent chaperons shared a bedtime devotion in the hotel rooms about personal treasures on the first night. In this story a young girl put sea shells, Georgia state quarters, and ribbons in a box. As Trinity students reflected on the events of Tallahassee today, they realized that treasures could not be stored in a box. Instead we have incredible memories from today within us."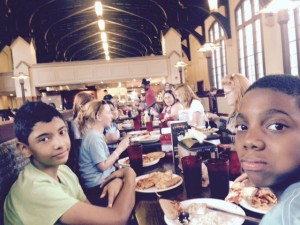 While on their trip the students sampled great food in Suwannee Café, which looks just like the Great Hall at Hogwarts from the Harry Potter series, walked on the campus of Florida State University and felt proud that they will all go to college one day. They strolled through Florida's fascinating history learning that the Seminoles had tattoos, that some were Christians, and that all the Museum treasures belong to us.
"The devotion reminded us that Gods wisdom is just like today's Tallahassee treasures, stored within us. Both are meaningful and not to be forgotten," says Dr. Brockberg.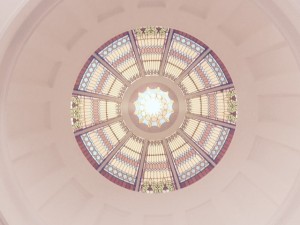 Trips like this grow the world in which the students learn. They add relatable experiences that are remembered for years and help form bonds and friendships between students that continue throughout their academic career here at Trinity and elsewhere.
Can you guess what this picture is? It's old, fragile, artistic and very high, and belongs to all of us. It's the…