What's the four way test? It's a simple four-question tool to evaluate the value of the of the things we think, say or do. Rotarians world-wide use it as a "moral code" for personal and business relationships. This simple reminder for evaluating the things we think, say or do fits at Trinity because we teach students to make choices based on Biblical principles, for example: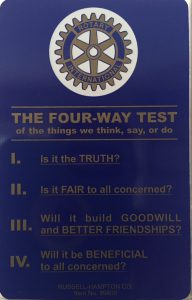 Philippians 4:8 Finally, brothers, whatever is true, whatever is honorable, whatever is just, whatever is pure, whatever is lovely, whatever is commendable, if there is any excellence, if there is anything worthy of praise, think about these things. What you have learned and received and heard and seen in me—practice these things, and the God of peace will be with you.
Galatians 5:14 For the whole law is fulfilled in one word: "You shall love your neighbor as yourself." 
Galatians 5:22-23 But the fruit of the Spirit is love, joy, peace, patience, kindness, goodness, faithfulness, gentleness, self-control; against such things there is no law. 
This past week, three Trinity Lutheran School students and Trinity's (Lutheran Counseling Services) school counselor, Ms. Abby, were recognized as leaders at the Rotary Club of Orlando. Congratulations!
Each quarter, one teacher and three students will be honored at The Rotary Club of Orlando luncheon meeting.  They will be selected for modeling The Four-Way Test on Trinity's campus, in what they think, say, and do.