"I am the maker of music, the dreamer of dreams!"
― Roald Dahl, Charlie and the Chocolate Factory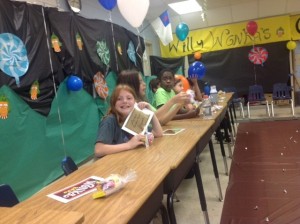 And, wow, did our dreams come true!
Recently, the 3rd and 4th graders got a chance to explore the fascinating world of Roald Dahl's Charlie and the Chocolate Factory. From the Whipple-Scrumptious Fudgemallow Delight to Snozberries, Dahl shared in his writings the things we could only ever imagine.
The students were captivated by the various personalities of each of Dahl's characters. In fact, during this unit we focused on the importance of characterization. The students learned how to understand not only the obvious traits of a person, but how their words and actions can teach us a lot about who they are. We also spent time talking about how the conflicts throughout the plot can severely change the outcome of a story.
In the end, the students were excited to immerse themselves in the world of Willy Wonka's very own Chocolate Room. Complete with a chocolate river and a golden ticket of their very own!
Submitted by Ms. Crawford