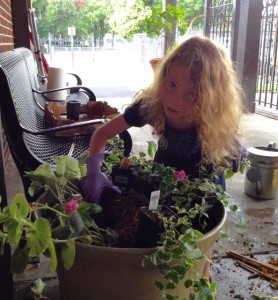 A steamy Saturday awaited 23 volunteers, all primed to spruce up the campus for the start of school. The morning's work resulted in important improvements: new flowers brighten our many gardens and containers, new bulletin boards adorn the halls, and library bookshelves are now empty, with boxed books awaiting the move to the new location in the school.
The work will continue this coming Saturday, August 22. Volunteers are invited to complete the remaining tasks to make everything ready for the first day of school:
• Move library books to new location (dependent upon the CDC move)
• Replace floor tiles in the School Office
• Paint the School Office
• Hang PTL plaques in the hallways
• Powerwash the Loggia, Breezeway, and emergency stairwells
• Trimming the hedge along the School Building
• Clean and help teachers organize the curriculum room
• Clearing out storage rooms
• Assisting in the new classrooms in the CDC
Invitations and reminders will be sent to church members and school families as we transition to a magnificent, expanded campus at Trinity. Your participation is vital to a grand beginning to this school year.